The House of Prestini
In 1890, Professor Prestini founded a factory to build single and double reeds as well as accessories, to meet the exceptional quality standards he demanded for his artistry.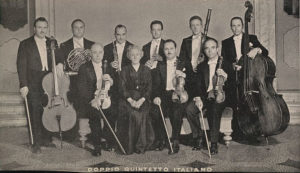 Silvano Prestini, son of Giuseppe, was professor of oboe at the conservatories of Bolzano, Trento, and Verona for 21 years. He was a leading, highly sought after oboe soloist at "La Scala", and Pomeriggi Musicali" of Milan and with "Doppio Quintello Italiano" and performed at leading theatre and opera houses throughout Europe.
Silvano Prestini joined his father's firm in 1947. Soon he added a new line of woodwind accessories – the pads. Later, he began producing custom pads designed specifically for each instrument manufacturer's needs. This revolutionary concept captured international recognition in the industry and, in a few years, made "Prestini" the dominant name in pads throughout the world – a reputation that continues today.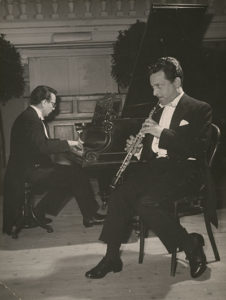 In 1960, Silvano Prestini founded Prestini Midi, S.A. at Cogolin, VAR, France, the heart of the finest cane growing region in the world. In 1974 he established production facilities in Nogales, Arizona. Today, all Prestini pads, reeds, and accessories are manufactured at this location and distributed from the Nogales, Arizona facility and through the Prestini Europe facility in Germany.
Giuseppe Prestini II, son of Silvano, joined the firm in 1970 as its Chief Executive Officer of United States operations and in 1981 succeeded his father as sole owner of the firm. His university education in mechanical engineering was further enhanced when his father taught him raw materials selection and analysis as applied to pad design and construction. He is familiar with the intricate specifications involved in meeting each customer's unique demands. He provides expertise in quality control, inspection, raw materials research, and new product design.
Today the Prestini Company continues to produce and distribute our many products around the world. We have three distinct product line segments in which we can supply your needs; Instrument Pads, Reeds, and Accessories.
Pads:
Being the largest manufacturer of instrument pads in the USA and among the top leaders in the world, we cover virtually all instrument families from the Piccolo and Flute, to the Clarinet and Saxophone. We offer our many product combinations in various sizes, thicknesses, and choices of materials. Our Prestini Brand "Ultra" uses only the very best materials from around the world for those customers that demand only the finest. Our Prestini Brand also uses the very best materials and satisfies the needs of the professional to the student. The Hermes Brand is used as our economy/budget line of quality priced items for those who are more cost conscious.
Reeds:
Being one of the oldest reed manufacturers in the world, we continue to evolve and grow this line of single and double reed products. Whether the cane comes from our various supplies in France, Spain, Argentina, or our own fields in Mexico, you can expect a consistent product on an everyday basis. Our recently introduced oboe reed staple has received critical acclaim for its outstanding quality and product movement has been excellent.
Accessories:
We support our Instrument Pads and Reed product segments with products that offer synergies to you, the customer, for purchased items that support the products we manufacture. Whether it is such things as reed trimmers, cork, and various forms of cane, we carry an ample stock from makers around the globe. All our products can be combined for shipment.
The cumulative experience of three generations has made "Prestini" a standard  of prestige and quality in woodwind accessories throughout the world!
All of our premium pads are manufactured exclusively at our U.S. plant so we have complete control over quality and sizing. Materials are sourced from around the world to provide the finest pad components available. We are proud to introduce Prestini International's newest line of pads, The Professional "Ultra" Series. After much input from repair technicians and extensive testing, these pads are designed to ensure a perfect seat and reduce installation time, making them far superior to other pads on the market. Available in premium Nappa leather and Kangaroo skin.
Save
Save
Save
Save
Save
Save
Save
Save